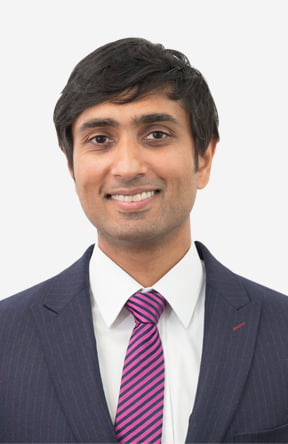 Dr Amit Patel
Specialist in Periodontics
& Implant Dentist
BDS MSc MClinDent MFDS RCSEd MRD RCSEng
GDC Number: 73981
Voted inside the top 50 most influential dentists in the UK 2018. Amit is recognised throughout the country as a leading dental specialist when it comes to periodontics and dental implants. He is professional, respected and caring.
Amit is registered with the General Dental Council as a Specialist in Periodontics. Alongside his private practice, he also works as Associate Specialist in Periodontics and Honorary Clinical Lecturer at the University of Birmingham Dental School. His special interests are dental implants, regenerative and aesthetic periodontics.
Amit graduated in Dentistry from the University of Liverpool in 1997. Following a training post in Restorative Dentistry at the Liverpool Dental School he gained significant experience in Oral and Maxillofacial surgery through 3 prestigious hospital posts. He obtained his Membership of the Faculty of Dental Surgeons at the Royal College of Surgeons in Edinburgh in 2000.
Amit subsequently undertook a 4 year training program in Periodontics and Implantology at Guy's, Kings and St Thomas' Dental Institute, achieving Masters in Periodontology and Clinical Dentistry.
This training involved acquisition of the most up-to-date techniques in Periodontics and Implantology under the supervision of Professor Richard Palmer who was appointed the first Professor of Implant Dentistry in the United Kingdom. Amit then obtained his Membership in Restorative Dentistry from the Royal College of Surgeons of England and became a registered Specialist in Periodontics. He works with several different implant systems including Biohorizons and Astra Dental Implant systems. He is also experienced in advanced surgical techniques for the treatment of Periodontal (gum) disease including sinus lift surgery, bone augmentation, the use of growth factor for bone regeneration and cosmetic root coverage surgery.
Amit is dedicated to providing specialist dentistry at the highest level and to training other dental professionals and has been voted inside the top 50 most influential dentists in the UK.
Amit is an ambassador for Clean Implant Foundation, the global project for a scientific based view on the implant market aiming for a better, cleaner and safer implantology.