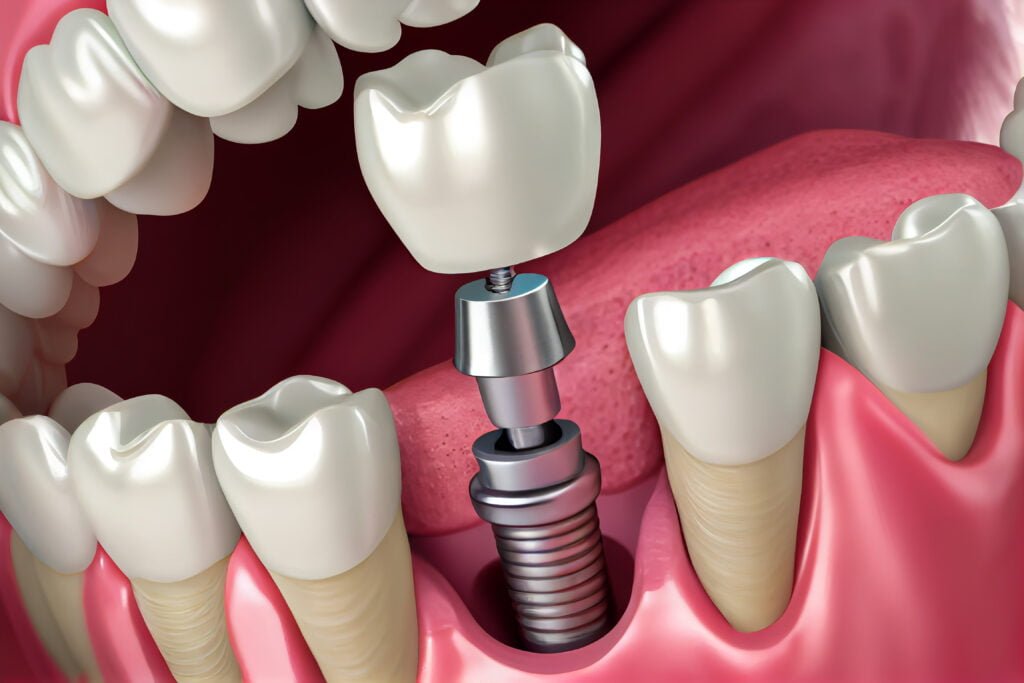 When tooth loss occurs, whether due to disease or an unfortunate accident, the idea of dental implants for a full mouth restoration can be a welcome solution.
At Birmingham Dental Specialists, we specialise in providing this remarkable solution, offering full sets of teeth replacement through All-on-4 or All-on-6 implants, all in a single day. These procedures can restore your mouth to its closest original state, improving both function and aesthetics.
Tooth loss affects various aspects of your life, from chewing and eating to altering your facial appearance and speech. However, our experienced dentists are well-versed in sophisticated dental implant treatments that can revive your smile. And, instead of enduring months of treatment, this transformation can be accomplished in just one day.
The Procedure: How All-on-4 and All-on-6 Work
Whether you opt for All-on-4 or All-on-6 dental implants, the procedure remains similar. Four or six implants are securely embedded into your jawbone, serving as the new roots for your teeth, which will be affixed onto these titanium posts.
Currently, All-on-4 and All-on-6 dental implant treatments are often referred to as "teeth in a day." These treatments offer a solution for individuals with multiple missing teeth, restoring upper and lower arch teeth in just a single day.
The replacement is achieved with a fixed bridge attached to your dental implants, eliminating the need to go without teeth for an extended period. For those seeking minimal disruption to their life, speech, and diet, it's an ideal solution.
Benefits of All-on-4 and All-on-6 Dental Implants
Comprehensive planning for same-day fittings and results.

Support for full arches with fewer implants (6 or 4) for cost advantages.

A solution that closely resembles natural teeth.

Longer implants for those with less bone, reducing the need for bone grafting.

Lower maintenance and care requirements compared to dentures.

Rapid results, often on the same day.

Effectiveness for complex cases previously considered impossible.
CONTACT US
The Procedure: Step by Step
Before treatment begins, one of our specialists in the team will conduct a thorough examination to ensure sufficient bone mass for implant anchoring. X-rays or CT scans may be necessary to gather the required information. Whether you opt for All-on-4 or All-on-6, in-depth planning is key to success.
A model of your teeth is created, allowing improvements and adjustments.

Small incisions are made into the gums for titanium post insertion.

Temporary teeth are fitted to the implants.

After ensuring bone regeneration and healed incisions, the final prosthesis is attached (typically 4-6 months later).
Aftercare:
Caring for your newly inserted implants is straightforward. Maintain regular dental hygiene practices, and attend follow-up appointments for dentist checks to ensure implant health.
If you want more of an insight about dental implant aftercare check out this complete guide.


The Cost of Dental Implants for All-on-4:
Implants for a full mouth can significantly enhance your quality of life and confidence. However, this procedure demands expertise and skill.
The cost reflects these factors, with All-on-4 dental implants for full mouth replacement starting at approximately £12,000.

Why Choose Smile4U for Same-Day Dental Implants
When considering Teeth-in-a-day, Birmingham Dental Specialists stands out as one of the most trusted dentists in Birmingham. Reasons to choose us include:
Experienced and highly trained staff.

A substantial patient base from the UK and overseas.

Guaranteed pain-free dental implant treatment.

Expertise in handling nervous and anxious patients.

Cutting-edge sedation for patient comfort.

0% interest payment plans for cost spread.

Transparent pricing with no hidden charges.

Flexible schedules, including lunchtime and same-day appointments.
All-On-4 Dental Implant FAQs
What are All on 4 Dental Implants?
All on 4 Dental Implants are a type of dental prosthesis that are used to replace missing teeth. The implants consist of four titanium posts that are surgically placed into the jawbone. The posts are then topped with a bridge of false teeth, providing a secure and permanent solution to missing teeth.

What are the benefits of All on 4 Dental Implants?
All on 4 Dental Implants provide a number of benefits, including: improved appearance, improved functionality, better speech, better chewing ability, and increased self-confidence. They also provide a secure and permanent solution to replacing missing teeth, which can last for many years with proper care and maintenance.
Are All on 4 Dental Implants Right for me?
The best way to determine if All on 4 Dental Implants are right for you is to consult with a dentist. Your dentist will be able to evaluate your individual situation and make an informed recommendation as to whether All on 4 Dental Implants are the best option for you.

Where can I find All on 4 Dental Implants in Birmingham?
Birmingham Dental Specialists offer All on 4 Dental Implants as part of their comprehensive range of dental treatments. For more information about All on 4 Dental Implants, please visit our dental implant page.

How much do All on 4 dental implants cost?
The cost of All on 4 dental implants in Birmingham will depend on several factors, such as the number of implants required, the complexity of the procedure, and any additional treatments that may be needed. To get an accurate cost estimate, please contact us to arrange a free consultation with one of our implant specialists.